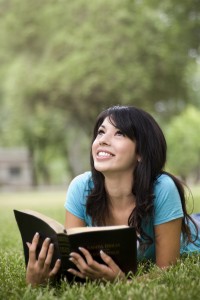 Reflections on Psalm 103
 Modern man tends to forget things. He is more easily distracted than previous generations. Thanks to the latest technology, he can work on many projects at once. In this relentless pursuit of performance, and achievements, he forgets to live.  His soul is unable to turn to core values and to find meaning in life's simple pleasures. Psalm 103 is definitely a poem that can help him to reflect on the quality of life, and the « abundant life » as Jesus saw it.
The psalm is made of 11 stanzas, with a chiasmus commonly found in Bible literature. In this structure, the most important message is at the centre of the text and all the other elements are presented in parallel phrases, as if to emphasize the central message. The key point of Psalm 103 is confirmed by its construction and is vital for human beings: God wants fulfilment and happiness for His children. There are 11 principles that we must not forget if we want to live a life that is both satisfying and blessed.
1. Don't forget God's blessings
The Torah reminded the Israelites the dangers of forgetfulness: "When you have eaten and are full, then beware, lest you forget the Lord who brought you out of the land of Egypt, from the house of bondage"  (Deuteronomy 6:12). We must admit that the beautiful country in which we live is much closer to prosperity than what we could imagine for God's people in the Promised Land: They did not have washing machines, a central heater, tap water, and so on. Yet they forgot to thank God for all His blessings. The same thing could happen to us if we fall prey to the prevailing discontentedness depicted in the text of Pierre Dac, the French poet:
Never happy
People never satisfied with their lot
Are those who are always complaining
That things are bad
When everything is not well;
Who, when everything is well,
Complain that everything is not very well;
Who, when everything is very well,
Complain that everything is not excellent;
Who, when everything is excellent,
Complain that everything is not perfect;
Who, when everything is perfect,
Complain that perfection doesn't belong to this world;
Who, when they have everything they want,
Complain that they don't have everything they dream of;
And who, when they have everything they want,
And everything they dream of,
Fall into a depression,
For they have nothing to desire,
And nothing to long for.
2) Don't Forget that God Heals You
We are grateful for the remarkable work of health professionals, but we must keep in mind a fundamental truth: God is the author of life and He is the one who heals us. Moreover, His action is holistic. He gives us physical health, forgiveness and crowns us with goodness. Therefore, it is important to maintain a close relationship with Him through prayer and meditation.
3) Don't forget God's Will
Sometimes God's ways seem restricting. Many people think that they are contrary to their freedom. However, David reminds us that God's revelation to Moses contributes to man's happiness in a remarkable way. Let's remember God's words to Isaiah: "Oh, that you had heeded my commandments! Then your peace would have been like a river, and your righteousness like the waves of the sea" (Isaiah 48:18).
4) Don't Forget Who God Is
The phrase 'abounding in mercy' could also be translated as 'chief, Lord of mercy. The phrase RAV in Hebrew is a term describing someone who is full of respect (the word 'Rabi' derives from it). It also has a military connotation representing a commander, or a captain. We must never forget that God is the epitome of goodness. When a problem arises, we are prone to accuse Him. Nonetheless, Christians know that we have a God like none other. He is the source of benevolence. No one else is as merciful as He is.
5) Don't Forget Who God is Not
Here we see that God does not keep His anger forever. This is a good example for men and women who succumb too often to their irritation. The Hebrew word for anger is 'aph' which also means 'the nose' and refers to the red nose of those who are exasperated and who are breathing with agitation. But God is not like that and His children would do well to imitate Him. When we think about the abundant life, and wellness, we must bear in mind that we need inner peace to grow a strong body.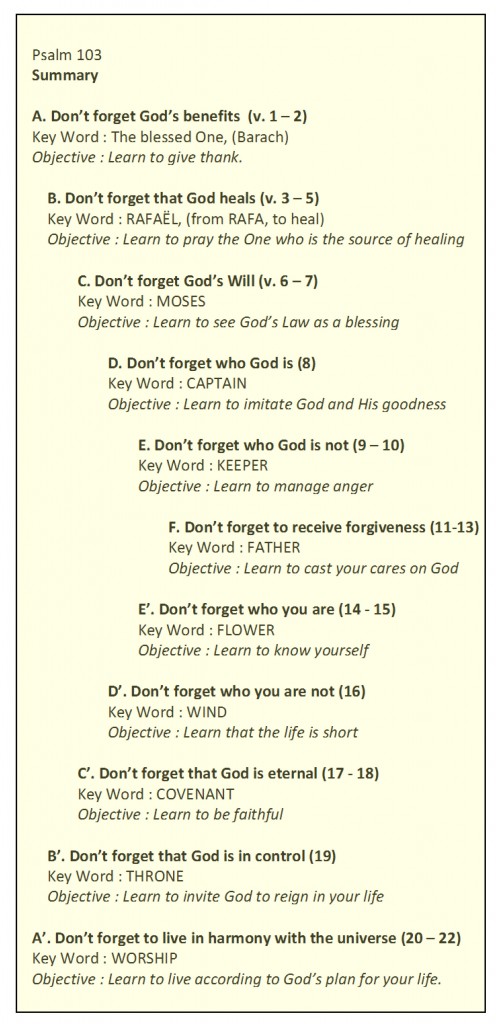 6) Don't Forget to Receive Forgiveness
Most people bear their burdens for too long. They cannot get rid of their guilt feelings, clumsiness, and imperfection. So they focus on their mistakes and live in auto-destruction. God offers a much better alternative: by the action of His grace, He wants to keep our past far from us. He is ready to make it inaccessible, and far from our present experience. He wants us to keep our eyes on the bright future that He is preparing for us. That is why He removes our transgressions from us "as the heavens are high above the earth, and as far as the east is from the west".
7) Don't Forget Who You Are
On the temple built in Delphes, the Greeks wrote the following: "Know yourself." They considered this as the ultimate knowledge or religious experience. The Bible teaches something else. It says that the most important thing is to know God, because to know Him is life eternal (John 17:3). And then He will help us to know ourselves because He is our Creator and He sees us, not as we are, but as we may become in Him (1 John 3:1-3). That is why David invites us not to forget the way that God looks at us and that shows His patience toward us.
8 ) Don't Forget Who You Are Not
The Turks used to say: "Man is harder than iron, stronger than stone and more fragile than a rose." But we tend to forget that. We think that everything is possible, and that the future can be up to our dreams. The Bible writers remind us to take it easy by saying that we are "like the wind", or as Moses said: 'like a sigh' (Psalm 90:9). For those who accept it, this truth is of the utmost importance. By accepting our frailty we will become more 'realistic', less solitary and we will learn to be interdependent. Above all, we will value the life that God has given us. Yes, life is short, and so it is in the valley of the shadow of death. The good news of salvation will soon be realized and we will obtain the indestructible life that God has promised.
9) Don't Forget that which is Eternal
Cicero said: "God's law is 'right reason'. When perfectly understood, it is called 'wisdom'. When applied by government in regulating human relations it is called 'justice." If we look at David's perspective, we will agree thatCicerois right. David knew that God is always faithful, and that He will abide with human beings, no matter what. May we take advantage of this affirmation to taste His faithfulness, the beauty of His covenant and allow Him to live within our hearts.

10) Don't Forget that God is in Control.
God is the Master of the universe. Angels, cherubs, seraphs, and a host of beings bow before Him. Unfortunately, the human beings on spaceship Earth strive to dominate and control things. So many couples divorce simply because one person wants to be right! How many bloody battles are due to the fact that we do not want to submit to God's reign. Our psalm reaffirms God's sovereignty. It is best for us to invite Him to reign in our hearts.
 11)  Don't Forget to Live in Harmony with the Universe
God created us to find fulfillment in worship. It is in the total and permanent connection to the source of life that we must live. It is by uplifting our Creator that we find the right perspective. It is only when we bow before God that we find our true selves. Joseph L. Garlington said: "To worship is to act as inferior before a superior. When I worship God, I am saying by my actions, 'God, you are better than I am. You are bigger than I am. You are more than I am.'" Unless we understand this, we are nothing.
What better way to conclude this reflection on the abundant life by quoting C.S. Lewis who reminds us how to build a life worth living: 'We only learn to behave ourselves as humans in the presence of God." May this fundamental text of King David become a permanent inspiration for us. Yes, life of quality is possible. Let's not forget to live fully like those who are blessed, those who know God and His love, but also know their own weaknesses, those who, above all, live by God's grace, in harmony with the universe, and surrender their lives to Him. Obviously, such a life of happiness, joy and worship is exciting.